An unforgettable school trip
Introduce your students to the world of VR
Get to know the future of technology in a playful way, by playing a variety of interactive experiences that revolve around teamwork and competition.
Our experiences are suited for young and old, but with a minimum age requirement of eight. Some of our VR experiences are played simultaneously, while others are played in turns. In the latter case, you can spectate the other players from a comfortable sofa and enjoy an ice-cold drink or a nice cup of coffee. You'll be back in the action before you know it. You'll be back in the action before you know it.
Book your experience
Experience the magic of virtual reality

Or turn it into a competition
VR Party Bundle
The fun bundle consists of a variety of unique, funny and challenging party games that you can play cooperatively or competitively. From beginners to more experienced players, it will be a real bash!
Duration
30, 60 of 90 minutes
VR Discovery
Looking for a fun way to introduce your business or school to the latest gaming and entertainment technologies? You can walk freely from room to room and try a variety of our VR experiences.
Tip: you can also request project demos of Enversed Studios for a more in-depth experience.
Number of people
55 to 200
Or turn it into a competition
VR Party Tournament
A hilarious contest full of fun mini-games. Become the champion or win as a team. One thing's for sure, it's going to be a party!
Want to customize your event?
We offer a number of extra's to enhance your VR experience even more. This allows you to customize your day completely to your liking. For your convenience, any extras that you choose shall be added to your original booking. This way, you can pay for everything at the same time, with the same bill. All you have to do is choose – we'll take care of the rest.
Not sure what to pick? Our team is happy to advise you on the options that fit with your specific needs and wishes. Feel free to contact us.
Customize your day out
Your day could look like this:
You'll take part in a specially designed lecture. There you will learn about the applications of VR, now and in the future, or be inspired by a tailor-made lecture that is directly related to your education.

After all that hard work, it's time to experience VR yourselves in a VR Discovery. This experience has been adapted to your wishes beforehand and features pleasure, business or a mix of both.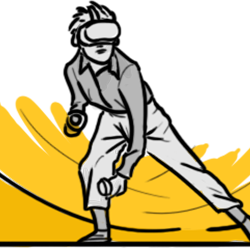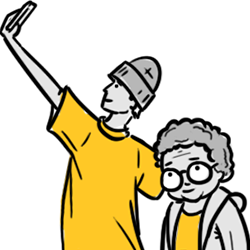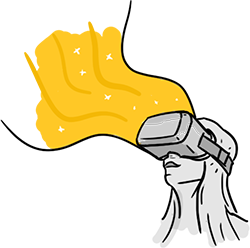 Experience the magic of VR
What can I expect during my visit?
One of our VR Crew Members is there to welcome and guide you for the duration of your visit. You'll then be assigned to one or more Enversed Room(s), depending on the size of your group. This Room is equipped with the latest VR technology, a comfortable sofa and two TV screens to spectate the fellow players of your group during downtime.
The Crew Member provides you with all the necessary instructions, as well food and beverages, before you set off on your virtual adventure. He or she then remains available to help you with any questions or requests so you can have the best experience possible at Enversed!
Accessibility
We want to make Virtual Reality as accessible as possible for everyone. That's why we have several tools at our disposal that enable guests to live VR experiences, despite limitations or handicaps. In addition, we are also able and willing to adapt the line-up of experiences to specific needs. Feel free to contact us for more information.